Inside Gaming: Online Poker Not Likely in Michigan Until 2021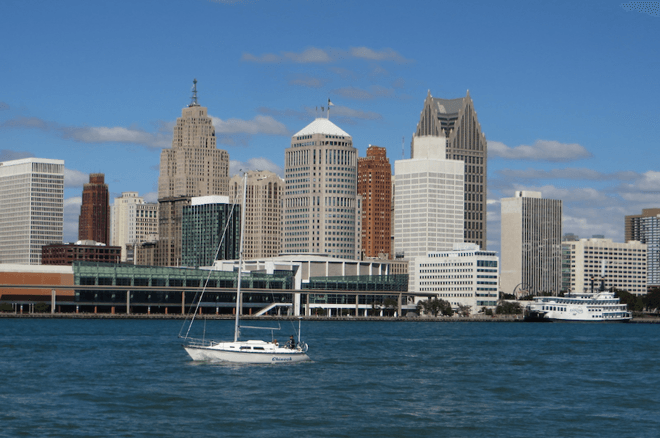 Michigan Puts on Brakes: Online Poker & Casino Games Not Likely Until Next Year
The new year began excitedly in Michigan after Governor Gretchen Witmer ended 2019 by signing into law the state's new Lawful Internet Gaming Act that made online poker, other online casino gambling, and internet sports betting legal.
The news this week, however, was more tempered as state regulators made clear there won't be any games happening online soon. In fact, don't look for any launches of online poker rooms or online casinos until 2021 at the earliest.
Speaking for the Michigan Gaming Control Board, spokesperson Mary Kay Bean made it clear this week that regulators will need until next year to complete the online rules, an estimate "based on the time it took develop other rule sets in the past," reports The Detroit Free Press.
Meanwhile sports betting in casinos should begin much sooner, perhaps by this spring says Bean while "noting the date will depend on applications, internal control reviews and the licensing process."
When it comes to sports betting, the casinos are eager and ready, hopeful to begin taking bets in time for the men's college basketball tournament, a.k.a. March Madness.
The MGM Grand Detroit has already opened a sports lounge that will serve as its sportsbook, while Penn National has agreements in place to launch its sportsbook the moment the all clear is delivered. The FireKeepers Hotel and Casino in Battle Creek is also ready to open a sportsbook, having been planning for the last 15 months per WWMT.
So-called "emergency rules" could have been issued to accelerate the process, although Bean notes how there would be a need for a "threat to health, safety and welfare" to implement those, something regulators do not feel to be the case.
"The MGCB is following the regular rules process, which provides opportunities for stakeholder and public input — holding a public hearing and offering a public comment period — and to file a regulatory impact statement," explained Bean. "All of these elements are missed when emergency rules are approved."
Given the likelihood of other online casino games being launched before online poker rooms open, online poker players in Michigan will probably have to be even more patient before their games begin. Even so, when that moment does arrive PokerStars will be ready as The Stars Group has already partnered with the Little Traverse Bay Bands of Odawa Indians Gaming Authority for market access in the state.
MGM Partners With Las Vegas Raiders in Time for 2020 Debut
It was nearly three years ago in this space we were sharing the news that National Football League owners had approved the Oakland Raiders' proposal to relocate the franchise to Las Vegas.
Today, with the $1.8 billion domed Allegiant Stadium still under construction with a completion target of July, football fans in Sin City are readying for the 2020 debut of the Las Vegas Raiders this fall. On Wednesday the team officially changed its name, an occasion marked in part by the rebranding of the @Raiders Twitter handle.
In other LVR news, yesterday MGM Resorts International announced a new partnership with the franchise to become the team's official gaming partner. MGM Resorts will also be a "Founding Partner of Allegiant Stadium" as well as an "Official Home of the Raiders Pre- and Post-Game Party," meaning fans can expect to see plenty of MGM-related signage in and around the new stadium.
"The Raiders are thrilled to welcome MGM Resorts International as our newest Founding Partner," said Raiders President Marc Badain as reported by KXNT. "MGM Resorts is an institution in the gaming and hospitality industry and the activations they have planned for Raider games and all events at Allegiant Stadium will bring their best-in-class expertise to the entertainment experience."
It's the latest in a series of moves by MGM in response to the ever-expanding sports betting landscape in the United States. The company has partnerships with the National Basketball Association, the National Hockey League, Major League Baseball, and Major League Soccer.
Meanwhile early last year Caesars Entertainment Corporation inked a similar partnership with the NFL.
New Jersey Lawmakers Refile Resolutions to Allow Casinos Outside AC
Finally, while the latest numbers out of New Jersey revealed how last year the state earned its highest total gaming revenue since 2012, some observers were responding to those totals last week in less than optimistic ways, citing concerns about whether or not Atlantic City can continue to support nine casinos.
Meanwhile lawmakers in the state are set to have the discussion once again about whether or not to allow casinos somewhere other than Atlantic City, as resolutions were reintroduced in both the Assembly and Senate to support allowing casino gaming elsewhere in the Garden State.
A total of six different resolutions have been introduced, reports the Press of Atlantic City, five in the Assembly and one in the Senate.
Similar resolutions were introduced last year, but none were able to progress out of the committee stage. Back in 2016, a proposal made it all of the way to the November ballot before New Jersey residents roundly rejected the idea of allowing two casinos to be built outside of AC, with 78% voting against.
Even one of the sponsors of one of the new resolutions, Assemblyman Ralph Caputo, is expressing caution about the idea, saying "the refiled resolutions are there for lawmakers 'to look at and consider in the event things change.'"
"At this point, we want to make sure Atlantic City is successful," said Caputo who also chairs the Tourism, Gaming and the Arts Committee in the Assembly.
"I don't encourage (casino gaming expansion) at this point," he added. "To be perfectly honest, the timing is not good. We have to see whether or not there's going to be the rebound that we're looking for (in Atlantic City)."
The big difference between now and 2016, of course, is the addition of sports betting in the state. It remains to be seen, however, whether that change will have any effect on any renewed push to allow casinos elsewhere in the state.
The Stars Group is a majority shareholder in iBus Media.
Photo: "Downtown Detroit, Michigan from Windsor, Ontario," Ken Lund, CC BY-SA 2.0.
Finding a trustworthy room to play online poker can be a monumental burden. That's all the more true if you're just looking for a place to play poker for free. We've listed five of the best play-money poker sites to enjoy and help hone your skills.
Penn National Gaming and Barstool Sports Announced Partnership
Penn National Gaming announced that it has entered into an agreement to acquire a 36% interest in Barstool Sports, Inc. ("Barstool Sports"), a leading digital sports media company, for approximately $163 million in cash and convertible preferred stock. Under the agreement, Penn National will be Barstool Sports' exclusive partner for up to 40 years and have the sole right to utilize the Bartstool Sports brand for all of the Company's online and retail sports betting and iCasino products.
Jay Snowden, President and Chief Executive Officer of Penn National, commented, "This exciting new partnership with Barstool Sports reflects our strategy to continue evolving from the nation's largest regional gaming operator, with 41 properties in 19 states, to a best-in-class onmi-channel provider of retail and online gaming and sports betting entertainment."
Mr. Snowden continued, "With its leading digital content, well-known brand and deep roots in sports betting, Barstool Sports is the ideal partner for Penn National and will enable us to attract a new, younger demographic, which will nicely complement our existing customer database. In addition, with 66 million monthly unique visitors, we believe the significant reach of Barstool Sports and loyalty of its audience will lead to meaningful reductions in customer acquisition and promotional costs for our sports betting and online products, significantly profitability and driving value for our shareholders."
Erika Nardini, Chief Executive Officer of Barstool Sports, said, "Barstool Sports is a dynamic content company that has grown into a media juggernaut thanks to some of the best talent and fans in the world. Over the last five years, Barstool Sports has brought its audience, creativity and expertise to the biggest sports betting and DFS operators in the country with great results. The chance to combine our content and fans with Penn National's massive footprint, and to develop a unique and compelling omni-channel approach together, was for us a no brainer."
Penn National's initial investment for 36% of the equity of Barstool Sports is comprised of approximately $135 million in cash and $28 million in shares of non-voting convertible preferred stock. After three years, Penn National will increase its owndership to approximately 50% with an incremental investment of approximately $62 million, consistent with the implied valuation at the time of the initial purchase.
Following the closing of the transaction, entities affiliated with The Chernin Group, which previously owned approximately 60% of Barstool Sports, will own 36% of Barstool Sports, and the remaining 28% will be held by Barstool Sports' employees, including Mr. Portnoy and Ms. Nardini.
The Company expects to close the transaction in the first quarter of 2020, subject to customary closing conditions set forth in the purchase agreement.