Ghost Bizzle on Tfue's FaZe lawsuit and plans after the Fortnite World Cup
Ghost Gaming star Timothy 'Bizzle' Miller has weighed in the ongoing legal battle between fellow pro Turner 'Tfue' Tenney and FaZe Clan, as well as revealing what he plans to do after the Fortnite World Cup.
The biggest event in Fortnite history takes place in New York on July 26-28, with Bizzle qualified for the solo event. He will enter as one of the favorites to win the $3 million first-place prize thanks to his performances in previous tournaments and experience on LAN.
He will be joined on the battlefield with Tfue – who qualified for the solo event while streaming live on Twitch, without a delay, to over 300,000 viewers. As well as focusing on his World Cup preparation, the pro is embroiled in a legal battle with FaZe Clan, and Bizzle has plenty of sympathy for his situation.
ESL/INSTAGRAM:TFUE
Bizzle and Tfue are the two highest earners in Fortnite history
In an exclusive interview with Richard Lewis for Dexerto, Bizzle revealed he understood why Tfue was forced to take action, highlighting his own negotiations with Ghost.
"From Tfue's side, I understand his frustrations," he said. "He was in negotiations regarding a new contract for months, and nothing was getting done. I understand there was a decent amount of time when I was renegotiating.
"However, I never had anything to expose Ghost for, so I've never been in that situation. It's hard to know someone who is going through all that. I don't think he had bad intentions, but you never know what the real story is."
[Timestamp – 47:47 for mobile users]
Rumors suggested that Tfue was desperate to get out of his contract to fulfill his dream of starting his own esports organization, but Bizzle believes the 21-year-old doesn't intend to do so.
Miller said: "I'm not sure if that's possible or what he wants to do. I've heard him say he doesn't want to do that, but you never know."
YT: GHOST GAMING
Bizzle doesn't believe Tfue wants to start an org.
Nevertheless, he did admit that if the plans did go ahead that Tfue could easily follow in the footsteps of former Call of Duty pro, Matthew 'Nadeshot' Haag, in creating an org such as 100 Thieves.
"He's gained such a massive following. If I wanted to do it, it wouldn't be a problem, similar to what Nadeshot did with 100 Thieves. If he wants to do that, he definitely could. I guess we'll find out in the future," Bizzle added.
YT:GHOST GAMING
Bizzle thinks Tfue could follow in Nadeshot's footsteps
Despite repeatedly criticizing the Fortnite competitive scene, the Ghost star stated his intentions to continue competing after the World Cup is over, even with many pro players threatening to quit after its conclusion.
"I'd rather not focusing on streaming or casual play – I want to be the best," he revealed. "I've always been a competitive player. I want to be the best player in the world and play against the best in the world.
"I don't know whether [Epic Games] will make that happen for me, because I don't think that's the case at the World Cup."
Tuque Games Announces "Dungeons & Dragons: Dark Alliance"
This evening during The Game Awards, Tuque Games and Wizards Of The Coast announced a new D&D video game with Dungeons & Dragons: Dark Alliance. The game will serve as a spiritual successor to the Baldur's Gate: Dark Alliance series and will feature popular characters from author R.A. Salvatore. This new game mixes the hack-and-slash dungeon crawler with a progression and loot systems of the RPG its based on. There will also be a couch or online co-op for up to four people. Here are a few quotes about the game from the info sent out with the trailer.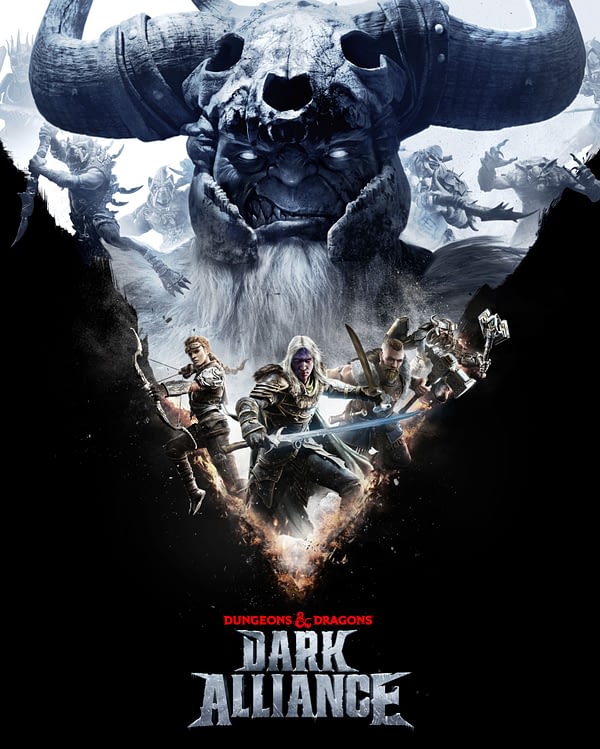 "From the moment I founded Tuque, our team has known that we wanted to bring our passion for D&D and creativity to the Dark Alliance series," said Jeff Hattem, Head of Studio, Tuque Games. "We're taking players on an epic journey through the harsh and violent, Icewind Dale, where they're going to need to use their wits, their weapons and their party members to help them survive the iconic monsters we're going to send their way."

"Drizzt and his companions are some of Dungeons & Dragons' most recognizable heroes," said Nathan Stewart, Head of Franchise for Dungeons & Dragons. "This all-new Dark Alliance will give players a visceral experience that drops them into the action of a Drizzt storyline like never before."
Prior to the announcement, we got to chat briefly with Kevin Neibert, Lead Game Designer at Tuque Games, about this particular title.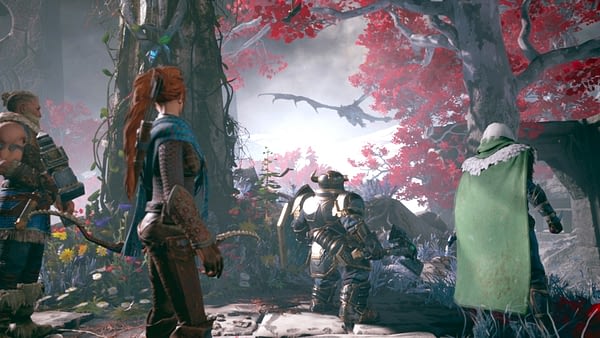 What made you decide to head down the action-RPG route with this particular game?
Those are the kinds of games we like to play and that we've had experience making. Livelock, our first game, taught us about how to make a co-op action-centric game. I think that we've always known we wanted to make a game starring Drizzt and R.A. Salvatore's novels have such wonderful descriptions of action and adventure that it seemed like a really natural fit.
Considering all the characters in D&D lore, why did you decide to go with Drizzt Do'Urden for this particular adventure?
I grew up playing D&D and reading the Drizzt novels by R.A. Salvatore, and it always resonated with me because in my D&D campaigns I liked to play as a ranger. I think Drizzt is so iconic and well known and his combat skills along with the companions really lends themselves to being great characters for a co-op action game.
Is there anywhere in particular in the Forgotten Realms you plan to take the game that we don't see too often?
We aren't talking about all of the locations in the game yet, but fans who have read the books will see some familiar locations, and we're really excited to show people our version of Icewind Dale. It's such a harsh and violent part of the Forgotten Realms, it's an ideal place for us to explore with this style of game. We want it to be a really intimate and visceral experience in one of the most unforgiving environments in the Forgotten Realms.
Will you be adding content to the game as we see in other D&D properties, or will this be a stand-alone adventure?
Right now we're focused on creating the best stand-alone adventure that really satisfies fans of D&D and Drizzt, but that doesn't mean we're closing the door on adding more content once the game is released.
 Are there any mechanics you're adding to the game to separate it from other action RPG titles?
Our combat is deeper than other RPGs, and we think the mastery of our moves and counters at the higher difficulty levels is going to add a lot of replay ability for gamers. But from just a wow factor, we're really excited for people to see some of the co-op combat moves that involve multiple player characters. A big focus of our game, as with the previous Dark Alliance, is that it's accessible – something easy to pick up and play, but hard to master.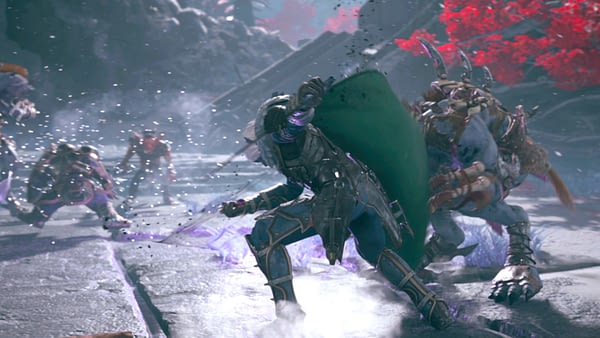 Enjoyed this article? Share it!