Cannabis and Gaming to XR & More
From March 13-21 explore common threads between fields like the cannabis and gaming industries, experiential storytelling, and politics as part of the SXSW Conference. Participate in various formats of programming like panels, workshops, Keynotes, and Featured Speakers that dive into the worlds of climate change and affecting social change as well as sports and mixed reality.
Of our 20 Tracks of programming, the nine Convergence Tracks spotlight the connection that business, tech, and culture have when they come together. Programming in any Convergence Track is open to all SXSW Badge types.
Don't miss your chance to be a part of SXSW 2020 – registration opens August 1, 2019. Stay tuned for more programming announcements coming Fall 2019 and learn more about the Convergence Tracks below.
Have a great session idea for 2020? We want to hear all about it – enter your idea into the PanelPicker® before the July 19 deadline!
Convergence Tracks
Cannabusiness
Learn about the technological, cultural, financial, legal and political ecosystems that are defining the cannabis-focused enterprises of both today and tomorrow. The Cannabusiness Track includes content that will appeal to more experienced professionals in this rapidly evolving industry, as well as to newcomers who are just starting to enter this space.
Learn More
Climate & Social Action
The Climate & Social Action Track highlights innovations that contribute to a more socially equitable and environmentally sustainable world. With updated studies putting climate change front and center in the global conversation, leaders and scientists from a variety of organizations will cover their challenges and successes in trying to affect lasting positive social, economic, and environmental change.
Learn More
Connection & Culture
New for 2020, the Connection & Culture Track addresses the challenges of interpersonal relationships in a world that too often favors online interactions. Along with examining how we connect with each other, this track also covers the arts via food, style, and other endeavors that unite us on a cultural level.
Learn More
Experiential Storytelling
The Experiential Storytelling Track investigates how new and experimental strategies are redefining and re-imagining the methods in which creators develop cutting-edge narrative structures. While blending more traditional methods of storytelling with technology-enhanced mediums, audiences can explore new worlds and experiences.
Learn More
Gaming Industry
New for 2020, the Gaming Industry Track examines the exponentially-increasing influence that the making, marketing, and distribution of video games is having on international culture, tech businesses, and traditional entertainment media including film and music.
Learn More
Government & Politics
The Government & Politics Track aims to discuss issues that affect the lives of all citizens. Topics focus on questions surrounding technology regulation, livable cities, privacy issues, and the challenges of maintaining civil engagement in the age of social media. These sessions also address the difficulties of creating policies that encourage competition and economic growth while balancing legacy systems.
Learn More
Media & Journalism
The Media & Journalism Track explores how the process of news, analysis, and content distribution are being impacted by technology and society. These sessions also examine the fast-changing media industry landscape, as older institutions and newer organizations battle for consumer attention.
Learn More
Sports
The Sports Track explores the future of game-playing from a cultural, philosophical, and technological perspective. Topics will include how esports is challenging our traditional understanding of competitive athletes, big data's role in revolutionizing various areas within the sports industry, and reimagining the state of fan engagement.
Learn More
XR
Focusing on current capabilities with immersive interfaces, the XR Track explores where these mind-expanding systems are heading. Also referred to as Extended Reality, XR covers virtual reality (VR), augmented reality (AR), and mixed reality (MR). Formerly known as VR/AR/MR, this track complements the Virtual Cinema programming.
Learn More
Explore all 20 Tracks of the SXSW Conference for Interactive, Film, and Music programming.
PanelPicker Proposal Information
PanelPicker® is the official SXSW user-generated session proposal platform developed to encourage the community to pitch their proposals for our daytime conference programming. This easy, two-step online process allows the SXSW community to have a voice in what creative and thought-provoking programming is scheduled for the event.
Read the PanelPicker FAQ for important information about SXSW, the PanelPicker entry process, and valuable tips. Propose 2020 SXSW session ideas through PanelPicker® before the deadline on July 19 at 11:59pm PT.
Enter Your 2020 Session Idea
Attend SXSW 2020
Planning to join us for SXSW from March 13-22, 2020? Register to attend and book your housing on August 1, 2019. Stay up to date on SXSW 2020 news by following us on Facebook, Twitter, and Instagram.
Featured Image by Mike Jordan/Getty Images for SXSW
Kings and Bucks to participate in prison basketball games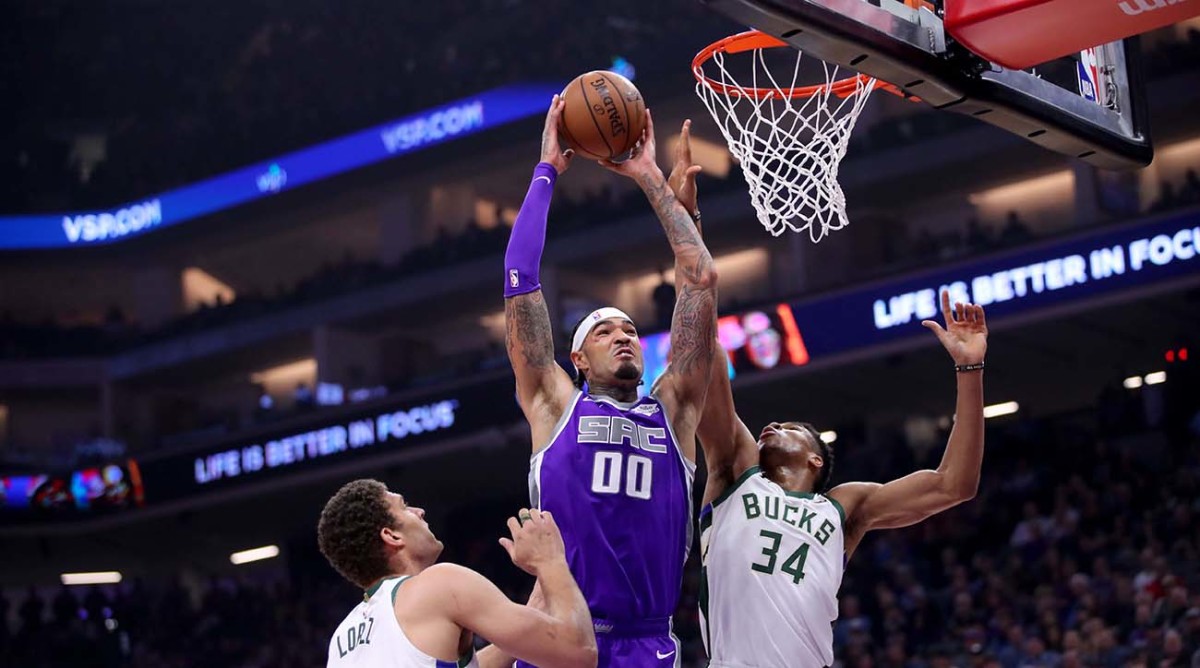 The Kings and Bucks will be the first NBA teams to participate in a series of basketball games at correctional facilities organized by the Represent Justice Campaign, Sacramento announced Thursday.
In the campaign's Play for Justice initiative, the players will serve as honorary captains during an hour-long basketball game with NBA alumni, coaches and incarcerated individuals. The games will follow facilitated conversations with NBA players and coaches, incarcerated people and members of the Represent Justice Campaign, who are themselves formerly incarcerated.
"The REPRESENT JUSTICE Campaign organized the Play for Justice initiative to advance the goals of uplifting narratives of hope and redemption, in order to break down stigmas associated with individuals—disproportionately people of color and the poor—who are impacted by the criminal justice system," the Kings said in a statement.
According to The Undefeated's Marc J. Spears, the Kings will host the first Play for Justice event at a renovated outdoor court at an undisclosed Northern California prison on Thursday night. The Bucks will reportedly host an event later in December before the two teams put on an event together in Milwaukee on Feb. 10, 2020.
"We're proud to be the first participant in the Play for Justice initiative, which is shining a bright light on the unique issues facing incarcerated people in communities around the country," Vivek Ranadivé, chairman, CEO and governor of the Kings, told The Undefeated. "Sports franchises have a unique opportunity to bring about positive change, which is why in the past year, the Kings and the Bucks brought together leaders from across two cities to share best practices and find new solutions to social injustices. This collaboration with Represent Justice is another example of how we can use our platforms for good."
Kings forward Trevor Ariza and player development coach Rico Hines are expected to participate in the roundtable conversation at Thursday's event and serve as honorary captains during the game. Sacramento coach Luke Walton is expected to play, according to The Undefeated.
Other NBA and WNBA teams are expected to participate in the initiative. Those teams will be announced in late December and the beginning of 2020.