Bitcoin Price Briefly Dips Below $10,000 Into Four-Digits
$10,000 was  an important FOMO trigger that once breached, and it did exactly what Tom Lee said it would. As soon as Bitcoin price went over the psychological resistance point, it quickly rallied through $11,000, $12,000, and $13,000, before a strong rejection at $14,000 may have stopped Bitcoin's parabolic rally in its tracks for good.
This morning, at roughly 11:30AM Eastern time, Bitcoin price briefly dipped below $10,000 to $9,950 before quickly bouncing higher. Will Bitcoin ever trade below $10,000 again?
Bitcoin Price Dips Below $10,000, Was This a Spring Before More Bull Run?
Bitcoin price is currently trading between $10,000 and a local high of $10,400 after a strong, rally-ending rejection send Bitcoin downward back toward $10,000, which it briefly dipped below this morning.
Related Reading | Tom Lee: Bitcoin Price Nearing FOMO Trigger, BTC To Trade Between $20K and $40K
In markets, when an asset dips below an important support momentarily and it acts like rocket fuel, taking the asset much higher, the support and move is defined as a "spring."
Since the start of April, Bitcoin has gone parabolic and has mostly managed to avoid any significant correction – until now. But because of how significant of support $10,000 may be now after flipping from resistance to support, Bitcoin may never again trade in the four-digits, and this latest dip may be nothing more than a "spring" before more upward movement.
Will We Ever See Four-Digit BTC Ever Again?
If $10,000 wasn't a spring, the important support just was tested for the first time. Each "test" causes the support or resistance to weaken, as more and more orders are removed from that cluster of price action.
After repeated tests, the order book is cleared of any orders in this area, and the next time price revisits the area, it is then able to break through cleanly. If this test was indeed a spring, according to Wyckoff accumulation theory, mark up would be next, and the bull run will continue from here.
No further downside would be anticipated, and Bitcoin would likely never again trade below five digits. However, should Bitcoin break through $10,000, supports lower will need to hold. Previous areas where a confluence of price action occurred could serve as support for further downside.
Related Reading | Bubble Hasn't Begun: Google Trends Shows Little Interest in $10,000 BTC
Any dips below $10,000 much like this last one should be bought up quickly, as many are expecting the next bull run to only have just begun, and analysts are recommending traders buy each fresh dip in Bitcoin price as they occur.
Between the market sentiment, Bitcoin's potential, and the fact that the asset is so scarce selling may be all but dried up, the likelihood that Bitcoin recovers from here is very high.
Featured image from Shutterstock
Ethereum's Weekly Close Above $275 Has Analysts Over the Moon
As Bitcoin has shot higher in the past few hours, so too has Ethereum. The market leader tapping $10,000 was accompanied by ETH passing $275, reaching as high as $278 just minutes ago.
While this sudden jump higher, which comes after the altcoin flatlined around $270 for most of Sunday, has yet to be sustained, analysts are saying the cryptocurrency is cleared to register even greater games in the coming days for a confluence of reasons.
Ethereum Technical Outlook Is Extremely Bullish, Analysts Say
Earlier today, NewsBTC reported on an analysis of the one-week ETH chart by Teddy, a popular trader. 
In the pertinent analysis, the commentator wrote that Ethereum's weekly candle closing above $275 — a level which has acted as short-term resistance and support over the past two weeks or so — will make the asset "beyond bullish":
"ETH: Weekly close above 275 beyond bullish. Anything below I see it as a rejection from a key resistance."
Weekly close above 275 beyond bullish

__

Anything below I see it as a rejection from a key resistance.

Suggesting that it may revisit 225 area as a retest of previous resistance as support pic.twitter.com/RyT6XOcGRl

— TEDDY (₿) (@TeddyCleps) February 23, 2020
Just minutes ago, the asset closed above this level ($276, to be exact), marking a higher high. Teddy did not allude to what he expects for the cryptocurrency to do after it makes a close above this level, though other analysts are expecting more upside.
From an extremely short-term perspective, analyst Cactus published the below chart and an accompanying message. In that message, the trader wrote that a weekly close above $267 is extremely positive, adding that such a close is likely to send Ethereum towards $290 in the coming days.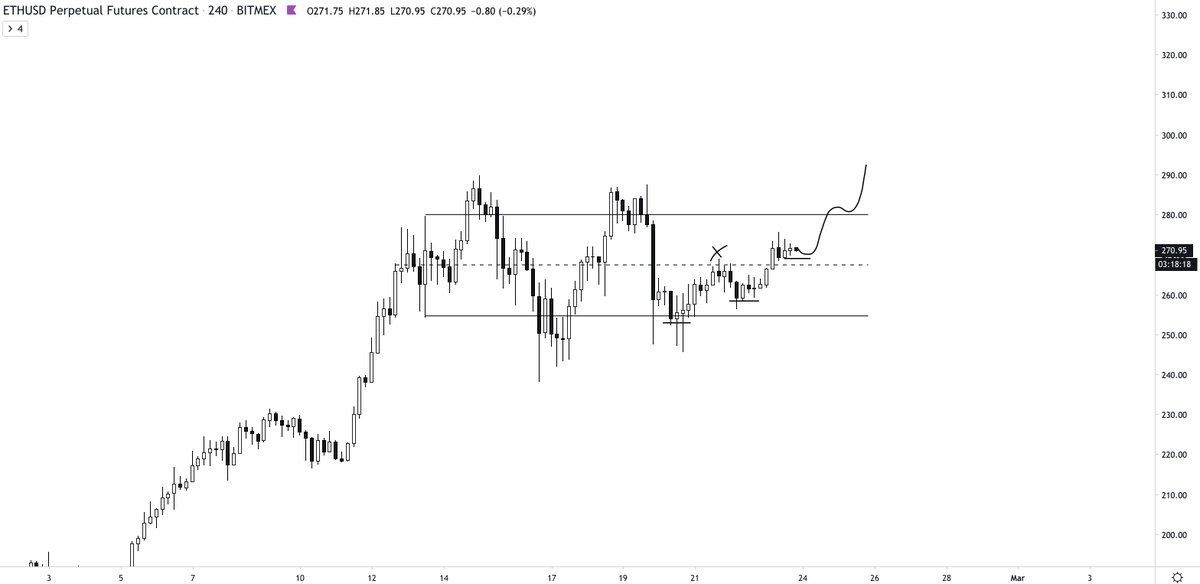 Indeed, RookieXBT recently remarked that Ethereum's six-hour chart is showing a number of positive signs: 
ETH is currently printing an "ascending triangle structure," marked by a number of tests of a horizontal resistance level and slowly-trending-higher prices. Ascending triangles most often break upwards.
The six-hour Relative Strength Index (RSI), a measure of the magnitude of price action, is creating a falling wedge structure. Falling wedges normally break upward.
There are hidden bullish divergences forming between the price of Bitcoin, which has been registering a series of higher lows, and the RSI, which continues to make lower lows. This suggests a breakout of the RSI wedge may come shortly, which should send Ethereum above the triangle that has constricted upward price action.
Featured Image from Shutterstock