10 things in tech you need to know today, September 12
Good morning! This is the tech news you need to know this Thursday.
Oracle CEO Mark Hurd is taking a leave of absence, saying he needs "time focused on my health." Oracle shares fell more than 5% as the company also reported fiscal-first-quarter results.
Andreessen Horowitz is reportedly backing Oculus founder Palmer Luckey's new border technology startup Anduril with a $1 billion valuation. Palmer started Anduril after leaving Facebook in 2017 amid reports of his controversial political donations and support of far-right groups.
Cybersecurity company Cloudflare says it may have violated US law by doing business with terrorists and narcotics traffickers. The company made the admission in a quietly updated S-1 filing.
Uber has said a new bill in California re-classing gig-economy workers as employees won't affect its drivers as they aren't central to its business, the Verge reports. Uber's chief legal counsel told reporters Uber drivers' work counts as "outside the usual course" of business.
A brewing FTC antitrust investigation into Amazon is looking more and more serious. Bloomberg reported on Wednesday that Federal Trade Commission officials have been interviewing small businesses that sell through Amazon about the company's business practices.
Video game retailer GameStop is closing 180 to 200 of stores as it attempts to stay afloat. GameStop CFO Jim Bell said he expects a "much larger" group of stores will be closed in the next one to two years.
Nintendo is seeking millions in damages from a website that allegedly charged $30 per year for fast, unlimited downloads of video games. According to a copy of the lawsuit obtained by Polygon, Nintendo of America is seeking $150,000 in damages for each infringement of its copyrighted works, and $2 million for each infringement of a Nintendo trademark.
Reverse app engineer Jane Manchun Wong discovered that Instagram is working on something called "Clips," a new camera mode for creating Instagram Stories. "Clips" seems to mirror many features central to short-form video app TikTok, allowing users to string together recorded clips into one video, add music, and adjust each clip's speed and length.
McDonald's bought an AI speech company to take the human interaction out of drive-thrus. Apprente builds AI designed to understand and respond to human speech, which McDonald's said it plans to implement at its drive-thrus.
WeWork may try to wrap its roadshow and price its IPO before the Jewish New Year on September 29. CEO Adam Neumann is reportedly hoping to finish up before the important two-day Jewish holiday of Rosh Hashanah begins.
Have an Amazon Alexa device? Now you can hear 10 Things in Tech each morning. Just search for "Business Insider" in your Alexa's flash briefing settings.
You can also subscribe to this newsletter here — just tick "10 Things in Tech You Need to Know."
Meyers: Digital Turbine – A Smartphone Software Company Doing The 'Impossible' – Digital Turbine, Inc. (NASDAQ:APPS)
Jeff Meyers of Cobia Capital has found an anomaly in the modern stock market: a company that's growing revenues without sacrificing its profits.
Meyers told Real Vision's Trade Ideas that he thinks the fast-growing software company, which brokers the placement of apps on smartphones, represents both a value play and a growth play.
As of last quarter, they had about a 13% EBITDA margin, which is up from basically zero last year. They are dedicated to leveraging their fixed costs, and they think they can get EBITDA margins 25% over a relatively short amount of time if they keep growing at the same pace.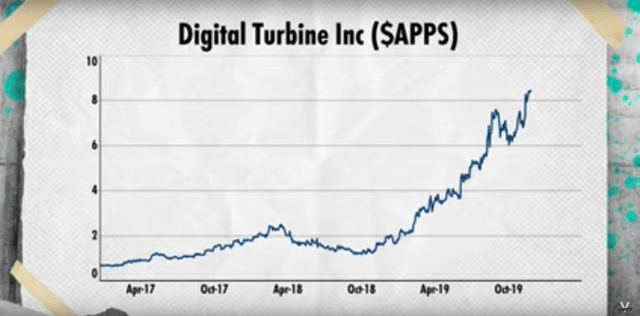 Source: Bloomberg
Meyers said he expects that revenue growth to continue, citing big name partners like Netflix and Disney+, diversified revenue streams, no real competition, and 5G accelerating the smartphone upgrade cycle as evidence of strong upside potential.
"We think Digital Turbine has that kind of capability that they could outpace our expectations and that 13 [quasi intermediate price target] will turn into a 16 will turn into a 20. And we think there's a lot of room left."
The Trade
Meyers is bullish on Digital Turbine (NASDAQ:APPS) despite some general market risk.
He said if the market tanks, it'll probably go down as well, but on a fundamental basis, as long as people keep buying phones and advertisers keep wanting space on those phones, the business is in pretty good shape.
Disclosure: I/we have no positions in any stocks mentioned, and no plans to initiate any positions within the next 72 hours. I wrote this article myself, and it expresses my own opinions. I am not receiving compensation for it (other than from Seeking Alpha). I have no business relationship with any company whose stock is mentioned in this article.
Additional disclosure: This is pretty obvious, but we should probably say it anyway so that there is absolutely no confusion… The material in REAL VISION GROUP video programs and publications (collectively referred to as "RV RELEASES") is provided for informational purposes only and is NOT investment advice. The information in RV RELEASES has been obtained from sources believed to be reliable, but Real Vision and its contributors, distributors and/or publishers, licensors, and their respective employees, contractors, agents, suppliers and vendors(collectively,"Affiliated Parties") make no representation or warranty as to the accuracy, timeliness or completeness of the content in RV RELEASES. Any data included in RV RELEASES are illustrative only and not for investment purposes. Any opinion or recommendation expressed in RV RELEASES is subject to change without notice. RV Releases do not recommend, explicitly nor implicitly, nor suggest or recommend any investment strategy. Real Vision Group and its Affiliated Parties disclaim all liability for any loss that may arise(whether direct, indirect, consequential, incidental, punitive or otherwise) from any use of the information in RV RELEASES. Real Vision Group and its Affiliated Parties do not have regard to any individual's, group of individuals' or entity's specific investment objectives, financial situation or circumstances. RV Releases do not express any opinion on the future value of any security, currency or other investment instrument. You should seek expert financial and other advice regarding the appropriateness of the material discussed or recommended in RV RELEASES and should note that investment values may fall, you may receive back less than originally invested and past performance is not necessarily reflective of future performance.Well that was pretty intense! We hope you got all of that – now stop reading the small print and go and enjoy Real Vision.